People who have seen the movie Glengarry Glen Ross remember if they remember nothing else, the scene where Alec Baldwin screams out "Always be Closing! A…B…C, Always be Closing!"  There is a truth to this.  As a salesperson, when the opportunity to close presents itself, you need to try to close the customer.  That's why they pay salespeople, to close deals and get orders, especially in the movies.
In real life, closing is a relatively small part of the sales profession.  It's close to the last step in the sales process and, by design, there are fewer people at the end of the sales funnel than at the beginning.  Rather than spending their time "always closing", salespeople spend far more time prospecting for people they can eventually close.  This being the case, successful salespeople are better advised to "Always be Prospecting" so they can keep their sales funnels full.
Cross Pattern Prospecting
Sales prospecting should never be the primary lead generation strategy, that is marketing's job. Why, because when done wrong sales prospecting is a huge waste of the salesperson's time, money, and resources.  When done correctly,  sales prospecting is an effective component of a more formal lead generation strategy. What I like to call a "Force Multiplier."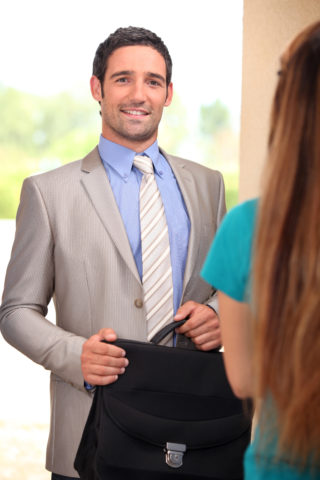 One effective prospecting strategy is what I like to call "cross pattern" prospecting.  The concept is simple, the salesperson will make a call on the businesses in front of, behind and to either side of the customer you just called on (like a cross, get it?). If they can use what you are selling you drop in and try to contact or identify the decision maker product.  While this might not make sense for certain industries and customers I have found it a viable strategy better than 90% of the time.  Because you are already in the area this is a very efficient way to cold call prospects. because it takes advantage of the fact you are already in the area.
Traveling to an area with no appointments for the sole reason of knocking on doors, while great for salespeople who want to appear to be busy without accomplishing anything of value, is often a costly waste of time.  Knocking on doors when you're already there eliminates the cost of travel…you were going to be there anyway, and gives you a great chance to identify potential customers in your territory.
Suppose you finish your sales call and coming outside the door you notice a business across the street you feel would be a customer for your product.  Thanks to the handy microcomputer in your pocket- your smart phone, you can do some quick research by plugging the name of the company into your search engine. Do they meet your customer profile?  If they do you now have an unqualified lead.  Let's say that in this case they are a perfect fit.  Now you need to stop by your car, pick up a brochure, staple your business card to it, walk into the business and ask who the best contact would be for whatever it is you are selling.
Let's face it, most of the time you aren't going to get to talk to the decision maker simply because that's how cold calling works.  You will however, most of the time, get a name and some contact details you can follow up with.  When this happens, I count it as a win.  Making an initial cold call should be simple, short, easy and effective.
The best way to ensure your call is successful is to have low expectations for it.  If all you want are a name and some contact details you will more likely get them.  Also, don't forget to drop off your brochure with the business card stapled to it.  If there is interest and a real need for what you are selling you the chances are good they might even call you.
So, there you have it, cross pattern prospecting.  Remember, as salespeople we need to reach out to as many of the right people as possible to let them know our offering.  We also need to manage our time and expenses well.  Cross pattern selling achieves both goals.  Good luck and happy selling.