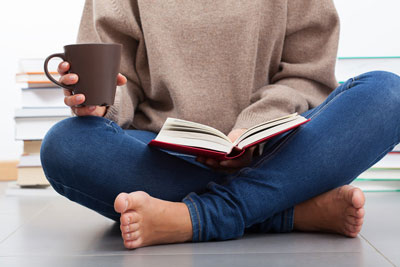 I'm a reader.  I love books.  Ever since I was young I've loved losing myself in a book, learning and experiencing whatever I could.  Fiction, non-fiction, biographies…it didn't matter; every other week or so I would trudge down to the library and return home with an armload of books.  It's a habit I have until this very day.  The major difference between then and now is, while I still love libraries, I get most of my books from Amazon.
Over time I've developed a pattern.  When I get interested in something, whether it's building a computer, fishing or deciding to brew my own beer, the first thing I do is read multiple books on the subject.  I might be procrastinating somewhat, but I do end up knowing a lot about whatever I'm involved with, whether professionally or as a hobby.  It is a fact that, no matter what you are interested in learning or doing, reading in depth about the subject will make you better at it.
Reading is Only Part of the Answer
There are inherent limitations with a book.  Sure, a book can teach you theory and, through story, both motivate and excite you.  A book cannot however, actually place you in the arena and give you experience.  No matter how much you read about other people's experiences, while there is some benefit to doing so, the only way you are going to get experience is through living it.  This means yes, you will have to step outside your comfort zone.
It's called "the comfort zone" for a reason.  While it's different for each individual, everyone is comfortable when they are in their own personal zone.  When we decide to stretch it, we need to take active measures to do so.  Need some ideas?  Here are some that work for me:
An Acting Class
A public speaking class
An Improv class
A stand-up comedy class. (Sign up for one requiring you to do a routine at a comedy club at the end.) You will have to make someone laugh; either that or it's going to be a long five minutes.
Sure, there are some similarities between them – you will be required to get up in front of people in each one of them, there are also differences between them.  Each one will stretch your comfort zone to a different degree.  For most people, myself included, each of these will get you outside your comfort zone and require you to interact and really communicate with other people on a level different than what you are used to.  You will be better at building relationships and it is through our relationships with other people that we get what we want out of life.
"You can get anything you want when you help other people get what they want." – Zig Ziglar
Other Steps You Can Take
I also recommend a class in negotiation skills for everyone as well as some sales training, even if you are not in sales.  Why?  It's quite simple really.  Just as most people claim to fear public speaking more than death I would hazard a guess that having to sell something is, if not next in line, pretty close.  (And this whole death before public speaking isn't really even true.  I would bet that, if you held a gun to someone's head and threaten to kill them if they didn't get up and speak just about everyone would get real chatty.)  Again, these "soft skills" make you better with people, and that is the real key to success in both business and life.