Unless you are a trained cook, the odds are you haven't heard the phrase "Mise en Place" before.  Mise en place is a French term meaning "to put something in its place" or "everything in its place".  In a cooking sense, the general idea is you must have everything you need to prepare a meal ready and waiting at the beginning, before you start to cook. In professional kitchens, it refers to organizing, preparing and placing the ingredients where they belong in advance.   It is the key not only to kitchen organization, but also to how one should productively arrange a kitchen.  When practiced, mise en place ensures a well-organized kitchen that is fast, effective and productive.  Ever wonder how commercial kitchens are able to crank out hundreds of meals a night?  Mise en place is how they do it.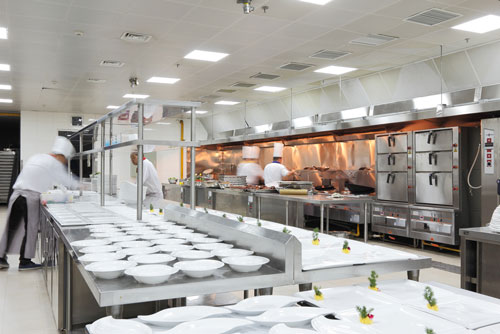 From Wikipedia (Mise en place)–
In the kitchen, the phrase is used as a noun (i.e., the setup of the array of ingredients), a verb (i.e., the process of preparing) and a state of mind. All of these uses, however, refer to someone who knows to be well prepared.
Learning the Power of Organization Early in Life
I love to cook.  In fact, I was at home in the kitchen long before I even considered the sales profession to be an acceptable career choice.  I first started to cook on my own when I was about 8 years old and of course, there was no real organization to my cooking methods.  I would simply open the cookbook my grandmother had gifted me – Betty Crocker's New Boys and Girl's Cookbook, and start cooking.  There was no preparation in advance.  When I needed to prep something, I did it when I got to that step in the recipe, never before.  As you can imagine, this caused problems.  Typically, I would be trying to chop an onion, look for ingredients and stir something on the stove at the same time.  Things were far from perfect.
Of course, over time and with practice, I did get better.  The most enormous improvement in my cooking skills happened when I finally I adopted, completely by accident of course, mises en place.  While I didn't learn the word until many years later, the practice of thinking ahead, organizing and making preparations in advance had a huge impact on my ability to handle myself in the kitchen.
I imagine you already know what this has to do with selling and becoming a more effective salesperson.
Organization makes everything easier
Just as it is in the kitchen, salespeople are more effective, productive and successful when they are organized; when they adopt a habit of mise en place.  It really needs to be a habit, something we practice every day.  Before starting the week, the day, the year or the sales call, the effective salesperson makes sure they have everything they need, or might possibly need available.   Things like brochures, demo equipment and samples are obvious.  Let me ask you though, have you ever gone into a call only to find you forgot your pen, business cards or something to take notes with?  Most of us have at one time or another.  These types of things are less obvious but no less important.
My suggestion is to develop a checklist covering everything you need to be effective in your sales role.  Checklists are an extremely effective way to make sure you have everything on hand.  In the beginning, you'll find yourself going through your checklist with a pencil in hand. Soon however, you will simply run through a mental checklist at the start of the day and before any significant event.  When running through that checklist becomes a habit, you'll find it a very powerful way to be a more effective sales person.